12/10/2010
Piranha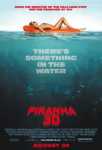 Spécialiste es films d'horreur (1), le réalisateur français Alexandre Aja rend hommage au film qui lui fit adorer le genre horreur, Piranha (1978) de Joe Dante. Une petite ville américaine, Lake Victoria, reçoit pour le week-end la jeunesse dorée américaine venue faire la fête sur le lac. Le problème est qu'un séisme secoue la ville, ouvrant une faille sous le lac qui laisse filtrer des milliers de piranhas. Tous les ingrédients sont là pour nous concocter une bonne série B : gros seins à gogos (ça doit se passer quelque part en Californie), dialogues ringards, tournage d'un film porno sur un bateau, scènes gore de chez gore (on se régale), présence de l'actrice porno Riley Steele, séquences qui ne riment à rien (un piranha croque un pénis puis le recrache), et twist final annonçant un Piranha 2... Regarder un dimanche soir des nunuches siliconnées se faire dévorer les fesses par des poissons ? On adore!
Piranha (Alexandre Aja, USA, 2010, 90 mins). Avec Elisabeth Shue, Adam Scott, Ving Rhames, Jessica Szohr, Christopher Lloyd, Riley Steele, Cody Longo, Richard Dreyfuss, Kelly Brook.
(1) Haute Tension (2003), The hills have eyes (2006), Mirrors (2008).