14/04/2010
Recount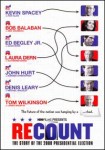 Nous savons tous qu'en 2000, l'élection américaine à la présidence de la République fut la plus controversée de tous les temps. Et pour cause, on annonce d'abord que le démocrate Al Gore est vainqueur de l'élection puis ce résultat est invalidé et c'est le républicain George W. Bush qui est annoncé gagnant. En raison du score serré dans l'Etat de Floride, les bulletins doivent être recomptés, avant que la Cour suprême ne s'empare de l'affaire. Dès lors, le républicain James Baker (Tom Wilkinson) et le démocrate Ron Klain (Kevin Spacey), protagonistes les plus en vue de la campagne électorale de leur parti politique, vont se livrer une bataille juridique sans merci afin de remporter la décision finale. Dans un styme mi-documentaire, mi-fiction, Jay Roach, réalisateur de Austin Powers, nous replonge dans cette journée comme on n'en reverra plus de sitôt aux Etats-Unis. Au style divertissant, il faut ajouter l'excellence des acteurs et une documentation au détail près. Un vrai régal.
Recount (Jay Roach, USA, 2008, 116 mins). Avec Kevin Spacey, Tom Wilkinson, John Hurt, Bob Balaban, Bruce McGill, Laura Dern, Denis Leary, Bruce Altman, Ed Begley Jr.
- Outstanding made for television movie - Academy of Television Arts and Sciences 2008.
- Best supporting actress in a series, miniseries or motion picture made for television (Laura Dern) - Golden Globes 2008.
- Outstanding Directing for a Miniseries, Movie or a Dramatic Special - Emmy Awards 2008.
- Outstanding Made for Television Movie - Emmy Awards 2008.
- Outstanding Single-Camera Picture Editing for a Miniseries or a Movie - Emmy Awards 2008.
- Outstanding Directorial Achievement in Movies for Television/Miniseries - Directors Guild of America 2009.
- Best Edited Motion Picture for Non-Com Television - American Cinema Editors 2009.
..........