29/03/2018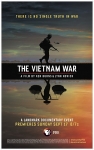 Si les fictions sur cette célébrissime guerre des temps de la guerre froide (1947-1989) - conflit extérieur et indirect le plus meurtrier pour les Etats-Unis - sont légion (essentiellement américaines, voir plus bas), aucun documentaire de grande envergure n'avait jusqu'ici traité ce conflit qui remettait en cause pour la première fois le mythe de la superpuissance américaine (victoire militaire mais défaite politique). Preuve que ce conflit qui impacta énormément les sociétés américaine et vietnamienne est encore sujet à des débats passionnés, cette série-documentaire de 16h30 (rien que ça), divisée en 10 épisodes.
Immersif et incisif, le documentaire raconte donc cette guerre, de ses débuts - fin de la Guerre d'Indochine et débâcle française (1954) - jusqu'à sa fin. Sa force principale est d'avoir adjoint aux images d'archives les témoignages de 79 personnes (soldats américains, soldats vietnamiens des deux camps sud et nord, civils, journalistes, écrivains, hommes politiques...etc). Avec autant de points de vue différents, difficile de faire plus objectif. A cela, il faut ajouter que forme narrative ainsi que la mise en scène viscérale nous plonge dans le conflit comme si nous y étions. Il s'agit ici d'un matériau indispensable (qui a mis 10 ans à se concrétiser...) pour comprendre de manière globale les ressorts du conflit le plus célèbre du XXème siècle après les deux guerres mondiales. J. N
THE VIETNAM WAR (PBS, 2017)
[Dix épisodes diffusés entre les 18 et 28 septembre 2017]
Scénariste : Geoffrey C. Ward.
Réalisateurs : Ken Burns, Lynn Novick
Narrateur : Peter Coyote.
SUR LA GUERRE DU VIETNAM
Films
The Green Berets (Ray Kellog, John Wayne, 1968), The Deer Hunter (Michael Cimino, 1978), Go tell the Spartans (Ted Post, 1978), Coming Home (Hal Ashby, 1978), Apocalypse now (Ridley Scott, 1979), Uncommon Valor (Ted Kotcheff, 1983), Birdy (Alan Parker, 1984), Missing in action (Joseph Zito, 1984), House (Steve Miner, 1985), Platoon (Oliver Stone, 1986), Good morning, Vietnam (Barry Levinson, 1987), Full Metal Jacket (Stanley Kubrick, 1987), Gardens of Stone (Francis Ford Coppola, 1987), Hamburger Hill (John Irvin, 1987), Eastern Condors (Sammo Kam-Bo Hung, 1987), Casualties of War (Brian de Palma, 1989), Born on the Fourth of July (Oliver Stone, 1989), Jabob's Ladder (Adrian Lyne, 1990), Bullet in the head (John Woo, 1990), Flight of the Intruder (John Milius, 1991), Heaven and Earth (Oliver Stone, 1993), Tigerland (Joel Schumacher, 2000), We were soldiers (Randall Wallace, 2002), Rescue Dawn (Werner Herzog, 2006), Tunnel Rats (Uwe Boll, 2008).
Série
Tour of Duty (CBS, 1987-1990)
Documentaires
- Loin du Vietnam (1967)
- In the Year of the Pig (Emile de Antonio, 1968)
- Winter Soldier (1972)
- Les âmes errantes (Boris Lojkine, 2005)
20:39 Publié dans Documentaire, Series | Lien permanent | Commentaires (2) | Tags : vietnam, guerre du vietnam, guerre d'indochine, etats-unis, indochine, peter coyote, the vietnam war, pbs, geoffrey c. ward, ken burns, lynn novick